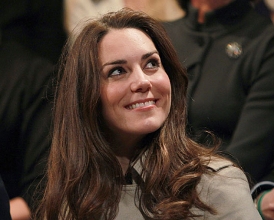 Sick of all the Royal Wedding hype deluging the media these days? Not me. To be honest, I can't wait for the big day. Not because I'm a hopeless romantic or a fan of the Royal Family.
I'm simply a hopeless fan of Her Royal Hottness, Kate.
The British tabloids have unfairly referred to her as "commoner" Kate Middleton, but this uncommonly gorgeous woman deserves props for her seemingly down-to-earth manner, as well as her breath-taking beauty. She may be a princess-in-waiting, but there's little princess in her attitude.
Word is she and her fiancé Prince William have no plans to employ servants beyond their security detail. That means no personal chef, butler or valet at their North Wales farmhouse. She also has been spotted shopping in grocery stores like the rest of us, presumably to prepare home-cooked meals to share with her dude. How common! How refreshing! How hot!
In a world filled with narcissistic Hollywood royalty (Gwyneth Paltrow, Jennifer Lopez, Paris Hilton), it's refreshing to see a real princess who doesn't act like one – someone who as a mother might actually wake up at 3 a.m. to calm down and clean up her projectile vomiting infant, rather than dispatching a nanny or personal assistant.
Considering the future Queen of England will now become a media fixture likely for the rest of my life, I'm so glad the images we'll be bombarded with will be of a hottie, not haughty, Majesty.
God save the Queen (to be)!