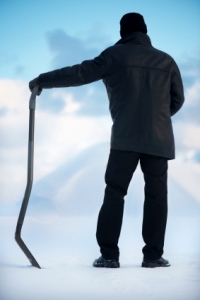 Dear Winter:
You bastard.
So you decide this is the year you'll make a little more noise than usual – delivering your biggest blast in decades, dropping historic snowfalls and blowing arctic air across the country.
Aren't you a big shot?
Hey America! Winter here. Remember me? Well, I promise you won't soon forget me. This year, I think I'm going to routinely delay flights, strand travelers, snarl traffic, interrupt power supplies and close schools. Just because I can!
That's just plain cold.
I get it. The joke's on me. But you're not funny. In fact, you've physically hurt me. I'm a relatively young man cursed with a lower back that's mechanically equivalent to an 82-year-old woman's spine. Yet you've unbuckled your arctic belt, dropped trou and relentlessly dumped multiple feet of heavy, wet snow onto my driveway, forcing me to shovel, snowblow and strain my L4 and L5 vertebrae all the way to hell and back. And if that wasn't enough, you tease us with hopes of an early spring after some stupid groundhog fails to see his shadow?
I'm not falling for it.
You send me up to my roof trying not to slip to my death while I shovel your white wrath and chip away at ice dams. You make me late for work as I huddle with my shivering children in the driveway waiting for the delayed school bus. You cost me money when my son needs replacement snow pants. (Sure, he's the one who lost them, but that's still on you.) Instead of motivating me to venture out into the cold night for a warm evening spent with friends, you sap my energy and force me to seek the solace and cozy comforts of my family room's couch, robbing me of what little social life I have. And for this introvert, that's saying a lot.
So, I'm giving you the finger right now. Both hands. But you can't tell, can you? Leering through my frost-covered windows only gives you a blurry vision of some fuming dude bundled up inside, typing on his laptop. Well let me be clear. I'm saying "Up yours!" and "Go to hell!" through the convenient sleeve openings of my Snuggie blanket, as emphatically as I can.
I know I chose to live in the Midwest. In fact, for years I yearned to leave Central Wisconsin and move to big-time Minneapolis/St. Paul. But those were the delusional dreams of a small town teenage boy who thought he wouldn't mind your annual visits for the rest of his life. He'd be too busy working for Prince's Paisley Park Studios, writing promo copy during the day and catching unannounced marathon jam sessions at night. The demented thinking of an accidental adult in training, I know.
But please remember, I am different than other Midwesterners. I'm not one of those brave or hearty souls who chooses to embrace your icy grip. I can't ice skate. I don't ski. I won't sled with the kids unless significantly guilted to do so.
I'm not taking your lemons and making frozen lemonade.
Instead, I'm a weather wimp who's California dreamin' on such a winter's day. When I close my eyes at night, I pray you're gone in the morning. Yet, like that inebriated college buddy who routinely crashed on my couch for much of my early 20s, you're there every morning, showing no signs of moving on anytime soon.
Can't you take a hint? Get the hell out of my hemisphere! Go crash that summer bash those Australians are enjoying right now, and tell your buddy Spring to blow over to North America, pronto!
Winter, you started this. But I'm going to finish it. I'm determined to somehow save enough money to escape your wrath someday. January, February and March in Minnesota offer nothing of value to me. Therefore, once I have procured sufficient funds, I hereby resolve to depart Twin Cities International every New Year's Day and return every April Fool's Day. Where I reside in between isn't of concern to you. Let's just say I'll be chillin' out in a much different way than you'd know how. Consider this escape plan my way of saying what I really think about you . . .
You can bite me. 
And that's just the tip of the iceberg.
Insincerely,
Colin Sokolowski, St. Paul, Minn.
P.S. Don't get me started on hockey either.